Work underway on park wetland project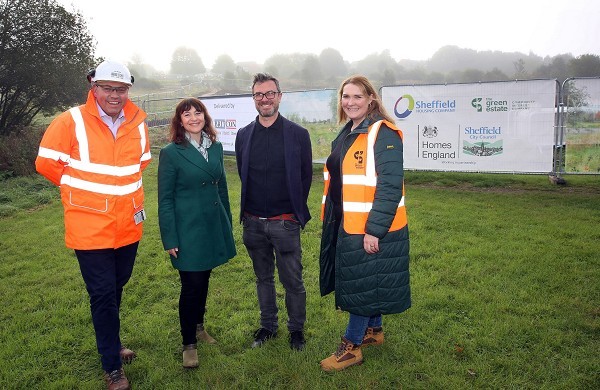 Being installed in Manor Fields Park, the Sustainable Urban Drainage Scheme (SuDS) - which will reduce flood risk in the city - is designed to ease pressure on Sheffield's watercourse and sewer network and will support the creation of 148 new homes in the Harborough Rise and Manor Park Avenue areas.
The water management system involves the creation of a wetland environment that will provide a haven for a diverse range of plants and animals and new walking trails for park visitors to explore.
This area, to the western edge of the park, will be closed for approximately five months but the rest of the park will remain open with minimal disruption for park visitors.
We are delivering this project in partnership with the Council's Parks and Flood Management teams - and The Green Estate Community Interest Company, which manages the park on behalf of Sheffield City Council. Following a rigorous consultation and tendering process specialist contractor Britcon Ltd was chosen to undertake the works.
Howard Young, Development Manager at SHC said: "This is an exciting project which will have far reaching benefits - both environmentally, for local people and for park users. There may be a short period of minor disruption, but we have been working hard to communicate with all those who might be affected, and we will strive to keep this to a minimum.
"Britcon Ltd have the right expertise and skills to facilitate the creation of this SuDS scheme and we look forward to seeing it evolve into a community asset that will enhance biodiversity and recreational space in the park, whilst also supporting the delivery of much needed new homes in the area."
Councillor Douglas Johnson, Chair of the Sheffield City Council Housing Policy Committee and representative for the Yorkshire Regional Flood and Coastal Committee at Sheffield City Council, said: "The Council's joint venture, Sheffield Housing Company, continues to have a positive impact on the city. As part of the delivery of its wide ranging new housing project portfolio, SHC strives to deliver sustainable solutions which benefit local communities. This latest SuDS scheme in Manor Fields Park is one of a growing number that SHC has delivered to date with the aim of encouraging the formation of diverse habitats within the park, reducing flood risk from run-off and helping to offset the environmental impact from the much needed new homes being built in the Manor Park neighbourhood."
Chief Executive at The Green Estate, Roz Davies, added: "Together with our partners, The Green Estate has been investing in our local green spaces by creating innovative and resilient landscapes since 2003. We are pleased to support the work being undertaken to provide further sustainable infrastructure in this award-winning park."
Dan Leaning, Project Manager with Britcon Ltd, said: "Britcon Ltd is very excited to be part of this scheme and look forward to delivering a natural space, where park users can relax and spend precious time with their families, friends and pets - whilst creating new bio-diverse habitats for fauna and flora alike."
Once complete, the SuDS will reduce the flow of water in Kirkbridge Dyke - in Manor Fields Park - when there is increased flow due to heavy rain. A permanent shallow pond, making up part of the new wild habitat, will be created and will normally hold small volumes of water. During a storm, the water level within the basin would temporarily rise, before being slowly released afterwards into the watercourse.
The new capacity created further downstream could then accommodate more run-off water from houses, roads and pathways, alleviating pressure on drains and sewers.
Creating this upstream water storage capability above the points of discharge from new developments is not typical. This new approach is a result of the watercourse and sewer modelling undertaken during the Three Brooks Flood Project - part of the Sheffield Flood Risk Management Plan.