Engineering Success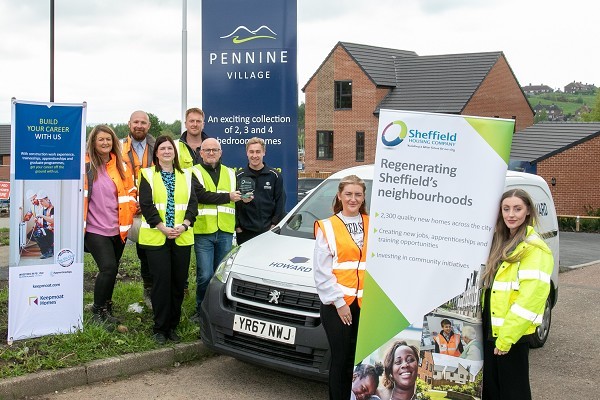 Howard Civil Engineering Ltd has provided in excess of 24 training and employment opportunities for people in Sheffield. Two have been apprenticeship roles, with 22 recruited to deliver groundwork and machine operations, respectively.
Testament to its commitment to training and employment, it has been awarded our sub-contractor of the quarter, for the work delivered across our sites, which have been built by Keepmoat.
Every three months, Sheffield City Council monitors the performance our subcontractors – with a focus on the employment and training opportunities they provide. These could be work placements, apprenticeships, training and educational programmes and the number of jobs created.
Michael Howard, Director of Howard Civils Engineering Ltd, said: "We are proud to receive recognition from SHC, Keepmoat and Sheffield City Council, for our dedication to members of the local community.
"Howard Civil Engineering place engaging and supporting the communities we work within as one of our key aims and objectives. As a socially responsible business we recognise that we have the ability to create positive change through our actions. Providing employment opportunities, training and skills development to people within the areas we work is just one of the ways we aim to leave a positive impact."
The award was presented at our Pennine Village development, located two miles from Sheffield city centre, by SHC's Development Manager, Howard Young.
He said: "Howard Civil Engineering Ltd is a great example of a business that is investing in the region by offering opportunities for individuals to up skill, train and gain employment."
Howard Civil Engineering is one of the North's leading civil engineering companies.
A total of 25 out of 26 Howard Civil Engineering Ltd employees working at our Pennie Village and Manor 12 and 13 developments live in Sheffield.
Councillor Douglas Johnson, Chair of the Housing Policy Committee at Sheffield City Council, said: "In a time when the industry as a whole is approaching nationwide labour shortages, it's never been more crucial to educate and inform young people of the benefits and rewards a career in construction can offer.
"This is why SHC and Sheffield City Council put so much value in these initiatives and it's great to see so many companies in our supply chain understand that supporting young people is key to sustained growth and profitability – and that they understand why these outcomes underpin our vision and philosophy.
"SHC is committed to supporting organisations, communities and individuals within the city. To date, working with its partnering organisations, it has delivered 75 apprenticeships and contributed over £50,000 to local community groups, schools and good causes."