Investment of £20,000 strengthens Sheffield's community groups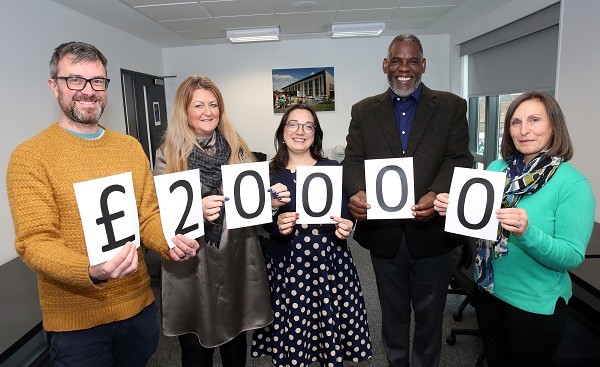 SHC's funding of £20,000 is supporting projects with Southey Owlerton Area Regeneration (SOAR) and Manor Castle Development Trust (MCDT).
SOAR is using the £10,000 to launch a Warm and Welcoming Spaces initiative this winter, which will help combat some of the challenges caused by the cost of living crisis. The community regeneration charity is working with local organisations, community centres and businesses to create safe, warm spaces where local people can come to work, socialise and access a wealth of information designed to improve health, wellbeing and employability.
Megan Ohri, Partnership Manager at SOAR, said: "We are acutely aware of the pressures that people are facing due to the cost of living crisis. We want our safe, warm spaces to provide comfort and a place where people can meet, to combat loneliness and isolation. Advice and sign posting to the appropriate agencies that can support with finances, budgeting and energy saving will also be available to those who might want to access it.
"All members of our community will be able to use these spaces - from those who fancy a change from home working, to the elderly and those with families and children."
Manor Castle Development Trust is using the £10,000 grant to support a range of additional activities in Sheffield. This includes sponsorship of seasonal events, funding towards a toddler play group, support of the local S2 Creative Arts Festival, rolling out a 'Dark Nights, Positive Activities' programme for children and young people over the October half term, upgrading local play equipment and improving communications aimed at crime reduction and anti-social behaviour.*
Debbie Mathews, Chief Executive Officer (CEO) of MCDT, added: "Bringing the local community together and providing the services, activities and support that matters most to our neighbourhood is at the heart of what we do. The funding from Sheffield Housing Company has enabled us to extend our reach and provide more opportunities for local people of all ages and interests."
To date, we (SHC) have pledged over £50,000 to public art and community initiatives. £20,000 has been spent supporting local schools and backing for open pathways to work for students, while university links provide graduates with work experience. There has also been sponsorship for, or attendance at, dozens of community events.
Steve Birch, Project Director at SHC added: "Our partnership is about much more than building houses, we want to have a lasting impact on the areas in which we operate. Supporting charitable organisations like SOAR and MCDT ensures that the projects delivered are creating positive change and opportunities for local people and their communities."
Cllr Douglas Johnson, Chair of Housing Policy Committee said: "We welcome the £20,000 funding put forward by Sheffield Housing Company as part of its corporate social responsibility and hope these initiatives will deliver a really positive impact, helping and encouraging people at a time when life is particularly hard. SOAR and MCDT are organisations at the heart of their local communities and we're pleased to be supporting schemes in areas where so much of SHC's new build activity has been focused to date."
Within Sheffield, Keepmoat has supported a number of organisations including SOAR and MCDT, to deliver a variety of projects which have helped promote training, employment, physical activity and mental wellbeing as well as improvements to the local area including the creation of wildflower meadows. Investment has totalled over £27,000.
Looking ahead, we aim to complete up to 2,300 properties on 23 sites by the end of 2026 – delivering further economic stimulation, job creation and community investment for Sheffield.