Enhancing Sheffield... Howard's way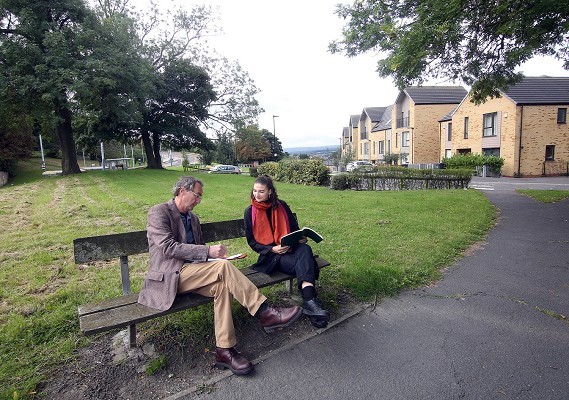 The project will help transform green open space adjacent to the Cutler's View, Bluestones, Norfolk Park and East Hill developments.
Howard, 64 and from North Wales, was one of a dozen artists who took part in a rigorous selection process, which included submissions of ideas/plans for the public art and a presentation to a panel, including representatives from Sheffield Housing Company and Sheffield City Council.
He said: "The idea is to create artwork installations through the new housing that lead people towards the open spaces of the park, encouraging them to enjoy nature – something that has become increasingly important in recent months.
"I am imagining a series of moderately sized way markers, perhaps waist or chest height, made from Pennine sandstone. They would not be carved but rather formed from layers or strata of smaller pieces of stone. The theme could be leaf shapes but I want to involve local people to help evolve the idea so it may well change over the coming weeks."
The COVID-19 pandemic means all the usual ways in which Howard would have engaged with the community are impossible and so, he has enlisted the support of his daughter, Anya Wigdel-Bowcott, also an artist, to lead a digital, online engagement programme.
She has created a website – www.arttothepark.com - where people can go to find out more, register their interest and get involved with the development of the project.
Howard added: "I would like to create an arts project through local schools, organisations or inspired individuals based around the visuals and aesthetics of the park. They might create their own designs or artwork which we could upload to a gallery or perhaps others will use poetry or the written word to describe their memories or feelings for the area – peeling back the layers of history."
Steve Birch, Development Manager at SHC, said: "It is great to have Howard and Anya onboard and we look forward to seeing their ideas and creativity come to fruition, with the support of the local and wider community."
It is anticipated that the art will be completed by the spring.