Chipping away at the skills shortage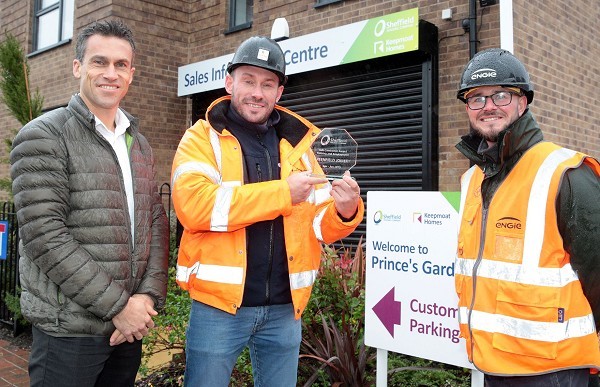 Kai Hannan, 45 of Greenfield Joinery is celebrating after the business and its team were awarded sub-contractor of the quarter, by Sheffield Housing Company for its commitment to providing local training and employment opportunities.
Working on our developments at Prince's Gardens and East Hill Gardens in Sheffield – being constructed by ENGIE - Greenfield Joinery has recruited five apprentices and seen its workforce grow from 60 to 75, providing 15 new jobs in the last year.
Kai said: "Having worked in the profession for many years, there can be no denying that it is getting harder to source qualified trades people. Working in partnership with SHC we have been able to expand our business whilst supporting and developing the communities in which we operate through training and job creation.
"As a local business it is vital that we play our part in addressing the national skills shortage by investing in the next generation of joiners / trades people."
We are committed to supporting organisations, communities and individuals within the city. To date working with our partnering organisations we've delivered 500 local jobs, 50 apprenticeships and over 200 work placements.
John Clephan, SHC Project Director added: "It is inspiring to see companies like Greenfield joinery investing in local training and employment. Each quarter we look to recognise the companies that are showing exceptional commitment in this area and Greenfield Joinery are a very worthy recipient"