Delivering homes, jobs and training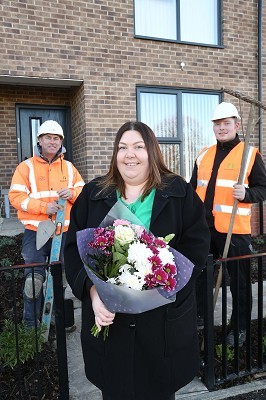 In achieving these milestones, we have spent over £80 million with construction sector businesses in the city region.
Of the homes constructed 452 have been sold outright, 36 sold for shared ownership, 26 offered at market rent and 86 at affordable rent.
Office worker Katie Woodhead and her bus driver husband Paul bought the 600th house to be completed on the Eclipse development on Harborough Avenue, Manor Park. She said: "We had been renting for a while and wanted to buy a home of our own.
"We were actually on our way to put down a deposit at another development when we passed the site and went to look at the show homes. We couldn't believe the difference in the size and storage space. We were really impressed by the value the homes offered so we bought a two bedroomed semi there instead."
The 60th apprentice is Cameron Akers, from Darnall, who is now training in horticulture with Northern Groundcare, carrying out landscaping on SHC developments. He said: "I did my A levels at college but didn't really want to go to university.
"I never saw myself doing this kind of work but when the chance came up, I decided to give it a go and I absolutely love it. We move around from site to site and the work is never the same day after day. I love the variety and the outdoors."
Learning while he is earning has also meant Cameron, 18, has been able to get mobile and buy himself a car.
Gregory Roy, 53 and from Thurnscoe was the person to secure the 500th new job created by the initiative when he was taken on as a groundworking bricklayer by Ashridge Contractors Ltd. He said: "This provides an excellent opportunity to create local employment for people like me and for local residents to shape the future of our city. I'm proud to be involved with this project that does so much for the community."
Councillor Jack Scott, cabinet member for development at Sheffield City Council, welcomed Katie to her new home and said: "The numbers tell a story when it comes to Sheffield Housing Company. Through working in partnership, we have delivered huge economic and social boosts that will benefit areas of Sheffield that need it most, regenerating communities and giving people the support they need to build better homes, lives and opportunities."
Gordon More, Chief Investment Officer, at Homes England, said: "We're using our land, finance and expertise to speed up the delivery of new homes. A £5.4 million loan, through our Home Building Fund, is a significant step towards increasing housing supply in Sheffield. We are committed to workingin partnership with organisations like SHC to provide high quality affordable housing."