Rewarding endeavour and building skills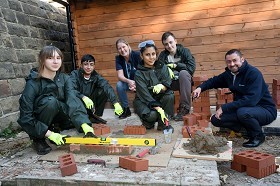 Endeavour, based in Fir Vale, offers programmes of personal development, education and social action to disadvantaged young people. We partnerd with the charity to organise visits to our new build construction projects underway in the city.
Following these visits, we donated bricks, breeze blocks and some funding, and Endeavour worked in conjunction with WiCAT (Women in Construction Arts and Technology) to deliver taster sessions in basic construction skills, allowing learners to gain hands on experience.
Now, Endeavour is taking the project forward with new sessions and plans are in place to build a Barbeque and clay pizza oven at the charity's HQ – once everyone has got to grips with the bricks and mortar!
Anita Redfern, Learning Mentor with Endeavour, said: "We'd like to thank SHC for the kind donation."
"The initial sessions were fantastic and it was great to see enthusiastic young people engaging in a meaningful activity that was both fun and informative. We are delighted to be able to continue providing these construction skills based taster sessions, which could well provide the confidence our young people need to move forward with their learning and to maybe consider a career in construction in the future."
Supporting educational and training projects is a key element of our programme to help create apprenticeship and job opportunities. It is currently working on the second phase of a 25 year plan to build 2,300 new affordable homes for sale, shared ownership and rent, across the city. To date almost 600 homes have been completed, over 50 apprentices employed, approaching 500 jobs created and more than £10 million spent with local suppliers.
Steve Lapthorne, Keepmoat Finance Director (Yorkshire) and a SHC Director, said: "We are delighted to be able to support this initiative. Our goal is not just to build high quality homes in Sheffield but also to engage with and support communities, developing skills and creating opportunities."