Sheffield kids visit multi-million pound housing scheme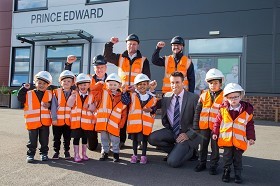 Reception students, aged four and five, from Prince Edward Primary School, made the short trip to site to see the development of 256 homes, located off Fitzhurbert Road in the Manor area of Sheffield.
The event was hosted by ENGIE, with Contracts Manager Leigh Nurse giving the children a tour around the perimeter of the site.
ENGIE will build new homes in Manor over two phases; with 163 available for private rent through Sigma Capital's Simple Life PRS brand (www.simplelifehomes.co.uk); while the final 93 open market sale properties on the scheme will be managed by us.
Leigh said: "At ENGIE, we believe it is really important to inspire the next generation of construction talent to visit our developments, to understand the dangers of construction sites and to ask any questions they might have about the work taking place.
"We would like to thank the children, parents and teachers for visiting the development, and look forward to building on our relationship with the school in the future, along with the rest of the local community."
Lee Catterall, Project Manager at Sigma Capital, comments: "With a heritage in regeneration, supporting the local community is a value held very highly at Sigma.
"Good local schools is a key factor in our location strategy and we are always looking at ways in which we can support the local community on an on-going basis, so we are really pleased that together with our partner ENGIE, we are able to welcome local schools to our sites."
John Clephan, SHC Project Director, added: "It was great that the schoolchildren came to find out about this significant development in their neighbourhood. Alongside building high quality homes for sale, shared ownership and rent, involving and supporting the communities in which we work is also very important and events like this are a fantastic way of doing this."
Matt Sieczkarek, Headteacher at Prince Edward Primary School, said: "Our youngest children thoroughly enjoyed themselves and brought learning back into the classroom. Their excitement carried on for days. As a school, we are very grateful for the opportunities to make links and forge relationships with ENGIE."
ENGIE is also building 77 new homes off East Bank Road at the East Hill Gardens development for both us and Sigma Capital. The development is comprised of 58 properties for private rent, and 19 for open market sale. All 333 new homes, worth a collective £43m, will be finalised in March 2020.