Toilet trouble averted to keep youth project on track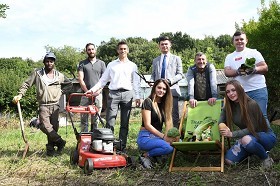 The allotment project, taking place in Meersbrook - in the south of the city, was arranged by community interest company, Youth Development. But the extra cost of providing an on-site toilet – required by health and safety legislation - forced organisers to consider pulling the chain on the initiative.
However, after hearing about the toilet troubles, we stepped in to provide the loo and some additional fencing.
Now, the project, offering hands-on work experience for young people over the summer could soon be flushed with success. Mark Garside, volunteer, with Youth Development said: "We run a range of projects right across South Yorkshire and our aim is to offer opportunities for 16 to 18 year-olds who face life challenges, due to a variety of circumstances.
"This outdoor project was designed to offer something different to young people, who could potentially become involved in criminal behaviour or who are at risk of re-offending. However, the additional cost of the toilet facilities and fencing could have meant us having to shelve the project altogether. Thankfully SHC agreed to help us and we can now all enjoy a productive summer down on the allotment."
John Clephan, our Project Director, said: "We are delighted to be able to support such a fantastic organisation. Youth Development's tireless work has already had a positive impact on the lives of scores of young people and we look forward to hearing of more, as work on the allotment progresses.
"Whilst improving the quality and choice of homes available to people across the city is our prime aim, providing opportunities for people to learn and develop will also help communities to thrive. This allotment initiative is a perfect example of the kind of project we want to support."
Youth Development was started in 2012, finding academic work placements for young people, initially in Barnsley. The establishment of a furniture upcycling project – which saves old furniture from landfill and helps young people learn the skills which turn unwanted items into new and desirable pieces – proved a huge success and helped the organisation's reach grow across South Yorkshire.
Volunteers work with young people to help them learn new skills, share experiences and to offer support and advice. For more information visit: http://www.youthdevelopment.org.uk/