Shared ownership homes now available at Eclipse, Manor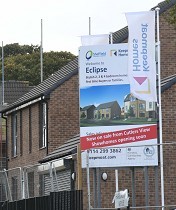 Under Shared Ownership, a government-backed scheme which helps local people with an affordable way to buy a new home, the buyer purchases a share of the new home (usually between 35 and 75 per cent) and pays a small rent on the remaining part until they can take further shares to own the home.
The new homes are being made available from award-winning affordable homes provider Plumlife, who we have been working with to provide this opportunity.
Alex Sanderson, sales manager at Plumlife, said: "There is a shortage of affordable housing* and we know it can take up to eight years for the average first time buyer to save a deposit. Shared Ownership, such as that at Eclipse in Sheffield is ideal for a range of people – from first-time buyers to second steppers with families looking to get into a bigger home. People only need a low deposit at five per cent of the share purchased and it has many benefits, putting home ownership within reach for some who might not be able to afford it otherwise.
"The eligibility criteria includes total household income at £80,000 a year or less. If you think Shared Ownership might be right for you, come and talk to us to see how we can help."
Our Eclipse development has lots to offer everyone and has many amenities close by including Asda and Lidl supermarkets and the Manor Top medical centre. Several recommended schools are in close proximity – Sheffield Park Academy and Prince Edward Primary School - and just a short distance away is Manor Fields Park, Poppyfields Park and The Wedge pocket park, which offer plenty of quality green space.
Commuters are also well served with Eclipse being half a mile from Sheffield Parkway A630 and junction 33 of the M1. Spring Lane tram station, with connections to Sheffield City Centre, is only a mile away and a regular bus service opposite the development runs between Sheffield and Chesterfield.
Two house types are on offer – the two bedroom Barlow and the three bedroom Bradfield. House prices start at £43,575 for a 35 per cent share and £106,875 for a 75 per cent share (full value £124,500) Minimum five per cent deposit at £2,179.
Find out more information on Eclipse or contact the Plumlife sales team on 0161 447 5050, [email protected]. Plumlife can also be followed via Twitter @PlumlifeHomes.