Bold investment programme underway with another 333 homes in Sheffield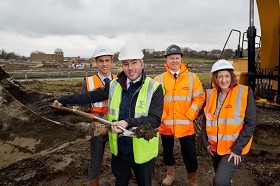 ENGIE will build 256 new homes in Manor over two phases; with 163 available for private rent through Sigma Capital's Simple Life PRS brand, while the final 93 properties on this scheme will be available to buy through SHC. At East Hill Gardens, 58 homes will be delivered for Sigma Capital and 19 for SHC.
Across the two developments, there will 14 different three and four bedroom house types to cater for the varying demand of rental homes.
John Clephan, Project Director with SHC, said: "We are pleased to be working with partners to provide more new homes in the city for rent and for sale. In addition to much needed housing, this initiative is creating employment and training opportunities, stimulating local economies and breathing new life into communities."
Late last year, the three organisations completed the first private rental properties on another development at Norfolk Park (Park Grange House) in Sheffield, where 24 new homes were delivered via the SHC investment programme. To date this scheme is fully-let.
Martin Smithurst, Regional Managing Director for ENGIE, said: "Home ownership isn't always an option, nor is it everyone's desire; so it's important that we maintain and improve the standard of rental accommodation across the country.
"We have worked successfully and collaboratively with Sigma Capital and our partners at SHC to ensure these new schemes have an eclectic mix of homes for renters to choose from. The success of Norfolk Park demonstrates the appetite for varying tenure and we are equally confident that the schemes in Manor and East Hill will follow suit."
Andy Beattie, development manager at Sigma Capital, adds: "Simple Life has been created to enable customers to enjoy a better rental experience and to enjoy the freedom and flexibility of renting.
"Customers can expect all the little details to be taken care of, with each new home thoughtfully designed and built to a high standard. Bright, light and spacious, Simple Life homes are professionally managed and maintained, offering an attractive housing alternative for young professionals, families and early retirees alike. These developments already seem to have been greatly received locally, with a number of enquiries coming through already.
"We are really pleased to see our relationship with SHC, ENGIE and Sheffield City Council going from strength to strength and we are grateful for their support which has been instrumental in enabling us to deliver new homes in Sheffield."
The first phase of Prince's Gardens is expected to be completed in May 2019, while East Hill Gardens is due for completion in July 2019.