Students visit our latest Manor development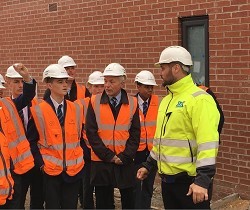 Keepmoat Homes Senior Site Manager, Steve Spencer, led the visit explaining the different stages of the build process as well as the challenges faced on this site due to the gradient of the land and the extent of ground works required.
The visit was a huge success, thanks in part to input from our sub-contractors, including Billy Kershaw, of KK Brickwork. Billy is a keen supporter of inspiring the next generation of construction workers and took the time to speak to the students, sharing his thoughts on the attributes he looks for when recruiting apprentices.
Advice from Max, an apprentice with D Rose Plumbing & Heating, also struck a chord with many of the students. Max urged students to work hard at school to achieve good English and Maths grades, explaining that because he didn't do this whilst at school he now has to put in additonal hours at college.
Site visits are more relevant and realistic with the input from site staff, sub contractors and apprentices – so our thanks go to to all those working on the Eclipse development.