Latest Sheffield family homes unveiled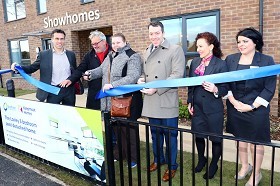 The two and three bedroomed show homes are the first to be constructed by us in Manor - just off the Parkway, near Harborough Avenue. Eventually the development, to be known as 'Eclipse', will provide 181 homes, mostly for sale but with 26 for affordable rent or shared ownership. Four of the rented properties have been completed and residents have moved into their new homes.
Emma Butcher, Sales Manager with Keepmoat Homes, which constructs and markets SHC properties, said: "These two and three bedroomed homes are ideal for first time buyers and young, growing families. I am sure we will get a lot of interest."
Of the 300 SHC homes so far sold, 80% have been bought by first time buyers.
John Clephan, our Project Director , said: "We are delighted to be working in a new part of the city, bringing great value, quality homes to the people of Sheffield. Of course, the development also means more job and training opportunities for local people and provides a financial injection to the local shops and businesses as new families make this neighbourhood their home."
To date our programme has invested £8.25 million with local supply chain businesses, created almost 200 new jobs and 46 apprenticeships. In addition, 170 people have benefited from training or work experience programmes.
With 293 homes completed in the first phase of development, the Manor project will contribute significantly to the 478 being constructed in phase two, which includes more homes at Parson Cross and Norfolk Park, as well as a new development at Fir Vale. Phase 3 - Norfolk Park and Manor – will comprise a further 333 properties
And last month, Sheffield City Council agreed a £3 million loan to SHC to kick-start future phases, which will unlock over £1bn of private sector investment and deliver around 850 more new homes in Manor, Norfolk Park and Parson Cross.