Creating jobs across Sheffield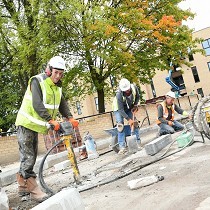 The pilot programme was delivered by a partnership comprising ourselves, the city council and Jobcentre Plus.
Six people, who had previously completed a construction employability programme and gained BTEC Level two certificates, were given the opportunity to work on live construction sites. These were the newly completed Park Grange House in Norfolk Park, which was built by Keepmoat Regeneration, part of the ENGIE group, on behalf of Sigma Capital Group and the SHC development at Brearley Forge, being constructed by Keepmoat Homes.
Patrick Madden and Ryan Ogilvie impressed sufficiently to be offered work with our construction partner, Keepmoat Homes, and one of Keepmoat Regeneration's subcontractors.
Ryan, 25, from the Wybourn area of the city, said: "I didn't really behave well at school and left early without any qualifications. I have been in and out of jobs without any real prospects and so it was great to get this opportunity for real work experience and I tried my hardest to learn and impress.
"I thought it would just be to put on my CV so to get a job at the end is unbelievable. I love what I do and there is never a morning when I don't look forward to getting to site and getting stuck in."
Ryan is working with Wakefield based groundworks firm RAB Construction. Patrick, 49 and from Walkley in Sheffield, has work with Keepmoat Homes.
Gerry Doherty, Project Manager at Keepmoat Regeneration, said: "We believe it is vital to work with our partners to create opportunities for local people. Ryan worked incredibly hard during his work experience placement with us, getting involved in labouring, bricklaying and joinery, and as a result was offered full time employment with one of our subcontractors, which is a fantastic achievement.
"We wish him all the best for his bright future in construction and we're delighted that we were able to provide a stepping stone to help him on his way."
John Clephan, SHC Project Director, said: "It is very important to us that while we build good quality housing for the people of Sheffield, we also invest in communities and individuals to help change lives for the better.
"The work experience programme has clearly helped local unemployed people to secure themselves better futures. Recognition and thanks go to all partners involved and well done to the participants who worked very hard to take advantage of the opportunity given to them."