Sowing the seeds of working with nature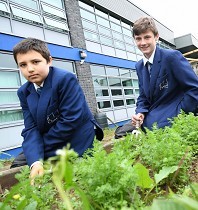 Youngsters at Chaucer School in Parson Cross have grown a variety of flowers, now adorning the school in hanging baskets and are also producing a range of vegetables. The blooms and greens will be on sale at the school's summer fayre, to be staged Friday 14 July, to raise funds for the school. The experience the students receive from for completing the course could open doors to further training and potentially a career in horticulture.
Steve Middleton, Facilities Manager at the school said: "We currently have ten students involved and they work in pairs, under supervision, on every aspect of preparation, sowing and planting and caring for the flowers and vegetables. It provides them with real hands on experience of how rewarding gardening can be."
Ciaran Ogden, 14, from Parson Cross, added: "I have really enjoyed the project because every day you can see the results of your work, as the plants grow and flower. I never imagined it could be so rewarding."
We're supporting the initiative, which also includes funding for a professional standard polytunnel to enable the students to benefit from an early growing season. This is alongside our commitment to support the creation of a construction skills centre and a hair and beauty salon at the school. All these initiatives are designed to engage students in activities which could directly lead to further training and work and Head Teacher, Scott Burnside says the activities have also encouraged students to focussed students on the progress of more traditional lessons and in terms of behaviour and attendance.