A winning partnership!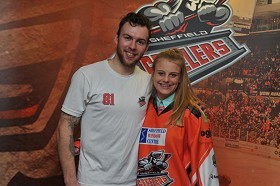 Our partnership with Sheffield Steelers goes back to when we first started building the first of our new homes, back in 2012. And our new sponsorship deals builds on that, providing us with a great opportunity to help raise the profile of our new homes and raise awareness of the positive effect we're having in building new communities across Sheffield.
But the really good news is that we get to enjoy tickets and a number of hospitality packages for home games which we're able to share with the those living in the neighbourhoods we're building in.
Last season our partners at Chaucer School and Manor & Castle Development Trust were able to enjoy a number of games to say 'thank you' for their support and commitment to helping us develop employment and skills opportunities for local people.
We plan to maximise these types of opportunities for local people next season and wish The Steelers continued success in 2018!