Huge demand for our shared ownership homes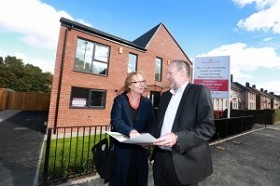 Within a few weeks of announcing that we'd be building a dozen new shared ownership homes at our Brearley Forge development in Parson Cross, all have been snapped up. And now we're considering more shared ownership development...
Our Project Director, John Clephan, said: "Generally the number of shared ownership homes being offered in the city has diminished in recent years, following the introduction of the government backed Help to Buy initiative. This effectively provides a 20% loan towards the cost of the property.
"So, with our affordable housing partner in this venture – Great Places – we decided to build 12 homes to offer another option to those looking to buy their own place and see whether there was demand. The results have been amazing.
"Increasing the choice of housing in an area is an important factor in building and maintaining a strong residential community. The different types of housing tenure available to people certainly contributes to that. As a result, we will consider building more shared ownership properties."
Matthew Harrison, Chief Executive of Great Places Housing Group, added: "We experienced fantastic levels of demand at Brearley Forge, with all of our shared ownership properties being reserved within 12 weeks of launching. In fact, half were snapped up from plan, demonstrating the need for modern affordable homes in Parson Cross.
"The spacious layout of homes appealed to local families, giving them the chance to step onto the property ladder and purchase a brand new home. Customers reported that houses were contemporary, functional, had a good sized garden, plenty of storage and were priced affordably because of the Shared Ownership option."
The homes were marketed and sold through Plumlife, the sales specialists at Great Places Housing Group. They were available for £38,500 for a 35 percent share of a two-bedroomed home, with a monthly rent of £164; £42,000 for a 35 percent share of a three-bedroomed property with a monthly rent of £179 and £47,250 for a 35 percent share of a four-bedroomed house, with a monthly rent of £201.
Gill Furniss MP for Sheffield, Brightside and Hillsborough, said when she visited the opening of the show home: "For far too many people the dream of owning their own home seems to be forever out of reach. That's why I congratulate Sheffield Housing Company on its bold plan to extend the project across the city. Every newly built home counts and shared ownership is a great way for first-time buyers to put their own roof over their heads."