Phase 2 on track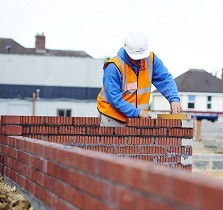 We're now building an extension of 83 homes, including nine apartments at Cutler's View (in Norfolk Park) on land between Park Grange Road and Beeches Drive as well as land adjacent to Fir Vale School playing fields, where 59 larger than average, two to six bedroomed homes are being built as part of our Birchlands development.
Our other phase 2 sites include 122 family homes at the Brearley Forge site; and a three storey, 24 apartment development at the former Park Grange residential home. In the summer we expect to start work on our final phase 2 site- 181 homes at Harborough Avenue, Manor.
Alongside our new build developments we're also investing in neighbourhoods. We've already identified nine new apprenticeships and 11 further job opportunities for local people. In total, Phase 2 will deliver 478 modern, energy efficient homes, and could create up to 80 new jobs and 69 apprenticeships. It will also push the value of contracts awarded to local support businesses to £22.5 million.
A £5.9 million loan from the Homes and Communities Agency is supporting the Phase, a sign of great confidence in our approach to building quality new homes. John Clephan, Project Director with SHC, said:
"I am delighted that we have everything in place to get this second phase of construction well underway. The funding from HCA marks a major expansion for SHC and has allowed us to double our house building activity in Sheffield. More house building allows us to increase the number of local jobs and businesses that we support through the work that we do.
"SHC homes are larger than your average new build being built in the city, offering best value to buyers and those who rent. They are thoughtfully designed to make adaptations easy, providing flexibility to make changes as families grow or people get older."
Councillor Jayne Dunn, cabinet member for housing at Sheffield City Council, is also pleased with the progress:
"It's great to see more new homes being built and in areas where they're most needed. We helped set up Sheffield Housing Company to improve the quality and choice of homes for people who want to buy or rent.
"A priority is creating as many local jobs and apprenticeships through this as possible and supporting local firms through supply chains. It's great this is happening and the development helps not only with housing but the economic regeneration of our neighbourhoods."
Ian Hoad, Operations Director for Keepmoat in Yorkshire, commented:
"Every partner involved in this project has a shared vision of delivering the highest quality homes, while investing in the wider community. The first phase has been a resounding success and we are committed to continue supporting buyers at all ends of the property ladder; while providing a platform for employment and training in the region."
Matthew Harrison, Chief Executive for Great Places Housing Group, is keen to ensure that such quality is matched by a commitment to the wider regneration of the neighbourhoods, something SHC aspires to.
"At Great Places, we're passionate about providing not only great homes, but also supporting great people and communities.
"These energy efficient homes go beyond just putting a roof over people's heads – the development work is supporting small businesses in the area, creating career opportunities for local people, and opening doors to the younger generation through apprenticeships and training."
Rob Pearson, Head of Area at the Homes and Communities Agency said:
"It is great news that £6 million investment is continuing to provide much needed homes for local people across the city and also help support the creation of new jobs. The partnership is making a real difference for the people of Sheffield and phase 2 is a sign of the long term commitment to the city."