A life in construction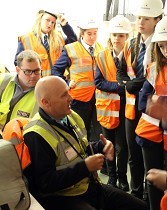 Supported by our partner, Keepmoat, and Sheffield Futures- an independent charity based in Sheffield which supports young people and adults to achieve their full potential in learning, employment and life- the visit provided the chance for young people to hear about the diverse range of opportunities available to young people within the construction industry.
Sarah Hopkinson, Community Engagement and Investment Co-ordinator at Keepmoat, said of the visit: 'I was delighted to see the number of young people who participated in the visit. We had a good mix of both boys and girls- all keen to learn more about opportunities for them in construction'.
Alongside Keepmoat and Sheffield Futures, the visit was also enhanced by the contributions of Neil Dixon, Senior Inspector fom the National House Building Council (NHBC) who explained NHBC's role within the Construction Industry.
Another highlight was Ralph from BeeJay Scaffolding, who shared with the students details of his career path, explaining how much he was able to earn whilst giving an insight into a typical day working on a construction site.
Students responded well to both Neil and Ralph and we all really appreciate both their efforts in taking time to engage with the visit. The visit was a success and we will be looking at other ways in which we can engage with local young people in the future.