Raising skills and aspirations for local young people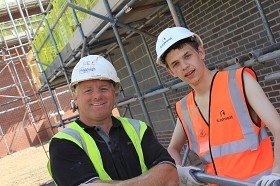 It's all part of our committment to building quality new homes on our new developments- homes that are modern, spacious, and adaptable to meet people's needs over the course of their lifetime- alongside investing in the wider social and economic regeneration of the neighbourhoods we're building in.
MCDT runs The Steel Inn in Manor, which offers a diverse range of services offered include training, employment support, health, support for families, activities for children and young people as well as offered external educational provision for students who are not able to access main stream provision with Sheffield.
Will Brown is one student who is taking advantage of such schemes. And when MCDT asked us if we could offer some work experience for Will, who is keen to become a bricklayer, to improve his confidence, skill base and employability, we were keen to help.
AC Brickwork, a Sheffield based sub-contractor who are committed to supporting young people into the Industry, have offered Will work experience at our Brearley Forge development in Parson Cross. Although very tiring Will has enjoyed his time on site and gained a practical insight into bricklaying that would have been much more difficult to grasp in a classroom alone.
Community Engagement and Investment Co-ordinator, Sarah Hopkinson said: 'We really value and appreciate the support offered by AC Brickwork. They gave Will the opportunity to get an on-site and enjoy real experience of the Construction Industry as well as giving Will encouragement and confidence that he can achieve his potential'.
Offering work experience is a key focus for us, not only to meet our regneration aspirations but also to address the current skills gap in the construction industry and promote opportunities for young men, like Will, who are in need opportunities like this to showcase their capabilties.