Green spaces will ease flood risk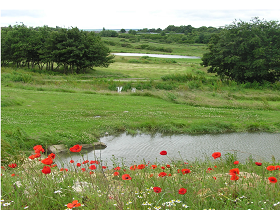 The schemes will also remove 90,000 cubic metres of run off rainwater from the city's sewers – the equivalent of nearly 10 million toilet flushes, 2.5 million showers or 1.25 million loads of washing.
This will help provide far better protection against the kind of flooding seen in the UK over recent years due to sudden, heavy downpours and prolonged wet weather.
The initiative is being largely funded by SHC in connection with the development of 771 new homes in the first three phases of our £250 million building programme. SHC is an innovative joint venture housing company with Sheffield Council, Keepmoat and Great Places Housing Group as its partners.
The first of the projects, which is already underway, is at Parson Cross Park, adjacent to the Brearley Forge development. Here, three basins have been created – one of which will always be wet and suitable for marshland planting and wildlife. The other two will flood only in wetter weather and could be used as play areas during drier spells.
A Pocket Park, below the new Birchlands development on Earl Marshal Road in Fir Vale, will be adapted to manage the surface water before flowing to the Bagley Dike watercourse, which lies underground. Waste land will be transformed into wetland with associated wildlife.
At Manor Top, where approximately 250 new homes are planned, an underground stream will be brought to the surface of a hillside site - providing opportunity for a number of water flow rock features. In addition, an innovative swale, running beside the new road system, will take run off water and direct it to the basins below. There may also be permeable paving included here.
A wetland biodiversity area will be added to the Pipworth recreation ground, in the lower Manor neighbourhood, with native plants that should attract amphibians and birds. This will help to manage the surface water from a number of construction projects in and around the Harborough Avenue area and will receive funding from other developers.
As well as improving the capacity of the sewage system to deal with storms, the schemes will also remove pollutants from the water which drains into them before it flows into local streams, brooks and rivers.
John Clephan, SHC Project Director, said: "The space and quality that our homes provide is very important to us and our customers. However, it is equally important that SHC developments are thoughtfully designed and create environmentally resilient places for Sheffield's residents to enjoy both now and in the future.
"These projects show how the building of new housing is able to create improved amenity green space for residents and wildlife, and at the same time ease the strain on the city's drainage system."
Since it commenced building three years ago SHC has completed 300 homes around 80% of which have been sold to first time buyers and families. It has created 31 apprenticeships, 27 new jobs and 42% of people working on the sites are from the city region. Nearly £7 million has been spent with local supply businesses.
Over £50,000 has been pledged to public art and community initiatives; £20,000 has been spent supporting local schools and backing for open pathways to work for students, while university links provide graduates with work experience. Here has been sponsorship for or attendance at over 20 community events.
Looking ahead, the aim is to build up to 2,300 two to six bedroomed properties on 26 sites across the city by 2025 – delivering further economic stimulation, job creation and community investment.