Building a better future in Sheffield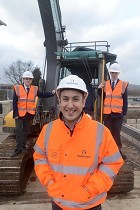 Students from Chaucer School joined partners from SHC to officially start work on the next phase of our development.
Luke Pickering, 15, from Chapeltown and Kye Maggin, 12, from Parson Cross - both pupils at the school – were on site as construction commenced on 122 family homes off Falstaff Road in Parson Cross. This is the first of five new sites, comprising 478 homes, mostly for sale, which SHC will begin this year.
The other sites are:
Land adjacent to Fir Vale School Playing Fields, where 59 larger than average, two to six bedroomed homes will be built.
An area between Park Grange Road and Beeches Drive in Norfolk Park, which is earmarked for 83 houses and nine apartments.
The site of the former Park Grange Old Peoples' Home, where a three storey, 24 apartment development will go ahead and at Harborough Avenue, Manor, where 181 homes will be built.
SHC has already completed 261 homes for sale and affordable rent in the city with the support of partners Sheffield City Council, housing provider Great Places and developer Keepmoat, which builds and sells the homes on behalf of the company. By 2030 it aims to create 2,300 in seven areas which are earmarked for urban, economic, environmental and social regeneration.
This next phase is expected to create about 80 new jobs and 69 new apprenticeships to add to the 58 already provided. It will also push the value of work created for local support businesses to £22.5 million.
After his visit to site, Luke said: "I am doing construction studies in school, which shows me different skills. I enjoyed plastering the most and it also helps me improve my school work because I now see how important it is to getting work. It's good that they are building houses because it uses up spare land and brings jobs to this area."
SHC has invested £15,000 in the Class of Your Own initiative at Chaucer School, developed to encourage more young people into construction. It provides opportunities for students to experience what it takes to bring a large scale building project to completion and further investment in other initiatives with the school is also planned.
Tom Fenton, Project Director with SHC, said: "Our main goal is to improve the quality and choice of homes available in Sheffield and so I am delighted that we have everything in place to begin work on these new sites this year.
"The homes are larger and better equipped than any others being built in the city, offering best value to buyers and those who rent. They are designed to make adaptations easy, so that people can add equipment which makes their lives easier as they get older. Around 15% are completed to Mobility Standards and 10% are fully wheelchair accessible
"However, we also want to engage with local communities and provide educational and training opportunities for people – especially young people. We want to show them the career opportunities available in construction and enhance their prospects of finding jobs in the future – hopefully on one of our own developments."
Councillor Jayne Dunn, cabinet member for housing at Sheffield City Council, said: "We helped set up Sheffield Housing Company to provide more affordable homes in Sheffield, in the areas where they're needed. Local jobs and apprenticeships will be created through this development, which will help regenerate local areas. It's great to see work starting."
Ian Hoad, Operations Director for Keepmoat's homes division in Yorkshire, commented: "We're proud to be helping Sheffield to lead the way in affordable home provision and improving the job prospects for people in the communities where we are working."
Raymond Kinsella, Regional Manager with Great Places Housing Group, said: "These much needed homes will benefit those in need of accommodation, while the project in general is supporting the wider community through initiatives like the one with Chaucer School."