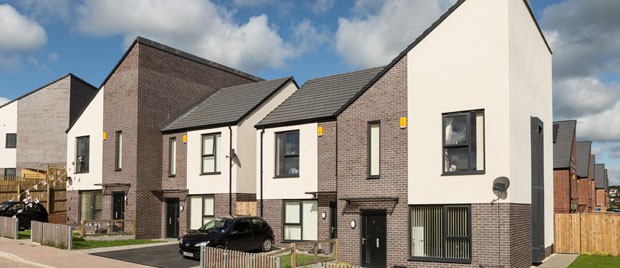 The Site
The Brearley Forge development is situated in Parson Cross in the north east of Sheffield, approximately five miles from the City centre. There are lots of green areas and local nature sites such as Colley Park, Longley Park, Parson Cross Park and Tongue Gutter. There is excellent access to public transport and it is only a short distance of less than three miles to the Meadowhall Shopping centre and only three miles to the M1.
There is an active local community in the neighbourhood led by organisations like SOAR which provide a number of services to support community life. The development is within 500m of a brand new District Centre, a new superstore, local shops, library and public square featuring art works by renowned artist team, Broadbent. Primary and secondary schools are within walking distance.
The development of Phase 1 and 2 has been a huge success with all our new homes already sold and rented out. We're now embarking on developing out the third phase of Falstaff and, once complete, it will be our largest site.
What they say:
"To be in this house is an enormous weight off our minds. We absolutely love it and can't believe how big it is. We were so impressed when we came round to view it and still can't believe we live here." Louisa, homeowner, Brearley Forge Phase 1
"There were many advantages of buying a new home at this development but the main attraction was how spacious these homes are. The entrance hall and bedrooms are very spacious and as it is sustainable, we can see ourselves living here for a very long time." Ashley, homeowner, Brearley Forge Phase 1
"The homes are larger and better equipped than any others being built in the city, offering best value to buyers and those who rent. They are designed to make adaptations easy, so that people can add equipment which makes their lives easier as they get older. Around 15% are completed to Mobility Standards and 10% are fully wheelchair accessible." Tom Fenton, SHC Project Director (2013-16).
What we've built:
Phase 1
61 x 2 bed homes (including 20 affordable rented homes)
72 x 3 bed homes (including 8 affordable rented homes)
9 x 4 bed homes (including 2 affordable rented homes)
Phase 2
48 x 2 bed homes (including 8 affordable homes)
52 x 3 bed homes (including 10 affordable homes)
24 x 4 bed homes
What we're currently building:
Phase 3
23 x 2 bed homes
65 x 3 bed homes (including 6 affordable homes)
18 x 4 bed homes
For more information on buying a property at Brearley Forge please visit Keepmoat.
Birchlands
The Birchlands development is situated in the east of Sheffield, approximately 2.5 miles from the city centre.
Find Out More
Brearley Springs
The Brearley Springs housing development in Shirecliffe was completed in 2015. Shirecliffe is in the north of Sheffield about three miles from the city centre.
Find Out More
Cutler's View
The Cutler's View housing development, off Park Spring Drive, Norfolk Park, is approximately one mile south-east of the city centre and, from its high vantage point, boasts some of the best views of Sheffield.
Find Out More
Prince's Gardens
Prince's Gardens is situated at Manor Top, near to our Eclipse development. It's one of our biggest development sites.
Find Out More